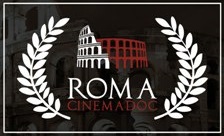 Roma Cinema DOC is a monthly international film festival based in Italy, that features the best short films and web series from around the world. Every montlhy winner will be given the distinction of an Official Finalist of the annual Roma Cinema DOC event in which Judges and Audience will award the best film of the year of each category. The next Roma Cinema DOC event will take place in Rome in June 2016.

---
Mindie & Roma Cinema DOC
Mindie is in partnership with Roma Cinema DOC. One of the winners of the Mindie event will be screened during the Roma Cinema DOC event, in Rome, Italy, and will receive a trophy.